How to Donate to Willunga Circle of Friends
You can donate in a number of ways. If you require a receipt for tax purposes, please use the first option.
1 - Click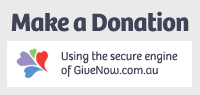 This will take you to the GiveNow page for the Willunga Circle of Friends 2020 Appeal of "Circle of Friends Australia Inc" (our umbrella organisation).
You will receive a Tax Receipt from "Circle of Friends Australia" by email for your donation.
Thank you for your donation!

(GiveNow is an initiative of the Our Community Foundation, a not-for-profit established through the financial support of Our Community, and is supported by Westpac. Minimum donation is $10 through GiveNow)

2 -To our bank account:
Bendigo Bank, Willunga:
Account Name: Willunga Circle of Friends
BSB: 633 000
Account Number: 164 788 986

(please send us an email at: This email address is being protected from spambots. You need JavaScript enabled to view it. to let us know that you have donated)
3 - Come along to the ShoeShine, or one of our other events and donate in person. [When we start up again!]